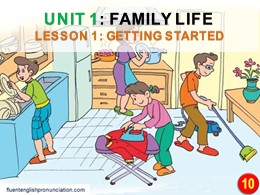 Decide whether the statemnets are true (T) , false (F) or not given (NG)
Write the verbs or verb phrases that are used with the words or phrases in the conversation
Make sentences with two of the words or phrases below


1. do the laundry
2. shop for groceries
3. do the heavy lifting
4. do washing-up
5. be responsible for household finances
Bạn đang xem tài liệu "Bài giảng Tiếng Anh Lớp 1 - Unit 1: Family life - Lesson 1: Getting started", để tải tài liệu gốc về máy bạn click vào nút DOWNLOAD ở trên
UNIT 1 : FAMILY LIFE 
LESSON 1: GETTING STARTED 
1 
do the washing 
make the bed 
wash the car 
do the shopping 
Iron the clothes 
do the washing up 
clean the windows 
sweep 
vacuum 
2 
do the cooking 
hang out the clothes 
set/ lay the table 
clear the table 
tidy the house 
walk the dog 
mop the floor 
water the plants 
feed the cat 
Task 2: 
Decide whether the statemnets are true (T) , false (F) or not given (NG) 
T 
F 
NG 
1. Nam's father is going out to play tennis with Mr. Long 
2. Nam's mother is a busy woman 
3. Nam's sister is cooking dinner 
4. Sometimes Nam's father cooks 
5. Everybody in Nam's family does some of housework 
6. Mr Long never does any household chores 
F 
NG 
F 
T 
T 
NG 
Write the verbs or verb phrases that are used with the words or phrases in the conversation 
4 
V erb s / v er b phrases 
Words / phrases 
1 
(household) chores 
2 
rubbish 
3 
laundry 
4 
g r oceries 
5 
heavy lifting 
6 
washing-up 
7 
household fi nanc es 
split, divide, handle 
take out 
  do 
shop for 
do 
do 
be responsible for 
Make sentences with two of the words or phrases below  
5 
1. do the laundry 
2. shop for groceries 
3. do the heavy lifting 
4. do washing-up 
5. be responsible for household finances 
HOMEWORK 
1. Learn by heart the words and 
 phrases related to household chores. 
2. Prepare for the next lesson.