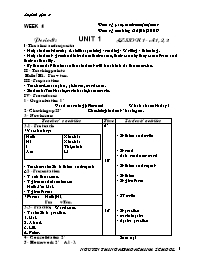 Period1: UNIT 1 LESSON 1- A 1,2,3
I- The aims and requests:
- Help students develop 4 skills: speaking - reading - Writing - listening.
- Help students greet and introduce their name, their country they come from and their nationality.
- By the end of the lesson the students will be able to do the exercise.
II - Teaching points:
 Hello/ Hi . I'm + ten.
III - Preparation:
- Teacher: Lesson plan, pictures, word cues.
- Students: Text book, work book, homework.
IV - Procedures:
1 - Organization. 1'
Week 1
Date of preparation:22/08/2009
Date of teaching:25/08/2009
Period1: Unit 1 Lesson 1- A 1,2,3
I- The aims and requests:
- Help students develop 4 skills: speaking - reading - Writing - listening.
- Help students greet and introduce their name, their country they come from and their nationality.
- By the end of the lesson the students will be able to do the exercise.
II - Teaching points:
 Hello/ Hi . I'm + ten.
III - Preparation:
- Teacher: Lesson plan, pictures, word cues.
- Students: Text book, work book, homework.
IV - Procedures:
1 - Organization. 1'
 Good morning/afternoon! Who is absent today?
2- Checking up! 5' Checking students ' book, pen.
3 - New lesson:
Teacher ' s activities
Time
Students ' activities
3.1 - Pre teach.
* Vocabulary:
Hello
Hi
I
Am
Xin chào
Xin chào
Tôi, mình
Là
- Teacher asks Sts to listen and repeat.
3.2 -Presentation.
- T sets the scene.
- T gives model sentence:
 Hello.I'm Mai. 
- T gives form:
* Form: Hello/Hi.
 I'm +Tên.
3.3 - Practice. Wordcues.
- T asks Sts to practise.
1. Mai.
2. Aland.
3. Lili.
4. Peter.
5'
10'
15'
- St listen and write
- St read
- 5 sts read new word
- St listen and repeat
- St listen
- St give form
- ST write
- St practice
- work in pairs
- 5 pairs practice
4 - Consolidation: 2' Sum up!
5 - Homework. 2' A1-3.
Week 1
Date of preparation:23/08/2009
Date of teaching:26/08/2009
Period2: Unit 1 Lesson 2- A 4 -7.
I- The aims and requests:
- Help students develop 4 skills: speaking - reading - Writing - listening.
- Help students greet and introduce their name.
- By the end of the lesson the students will be able to do the exercise.
II - Teaching points:
Hello/Hi. I'm + ten
III - Preparation:
- Teacher: Lesson plan, tape, pictures.
- Students: Text book, work book, homework.
IV - Procedures:
1 - Organization. 1'
 Good morning/afternoon! Who is absent today?
2- Checking up! 5' Checking students ex A2.
3 - New lesson:
Teacher ' s activities
Time
Students ' activities
3.1 - Pre- Listening.
* Matching:
Hello
Hi
I
Am
Tôi, mình
Là
Xin chào
Xin chào
- T asks Sts to matching.
3.2 -While - Listening.
* Ordering.
- T asks Sts to litsen and tick.
1 - b.
2 - a.
3.3 - Post - listening. 
* Writing. A6.
- T asks Sts to practise writing.
1. I am.............. .
2. Hello.I'm ............. .
* Play game. A7
- T guids Sts to play.
*A5. Say it right: Hi I
 Hello Hi
5'
10'
15'-
- St write
- St work in pairs
- 2 Sts match on the B.B
- St listen
- St tick
- 3 Sts tick on the B.B
- Sts write
- 3 sts write on the B.B
- Practise
- play
4 - Consolidation: 2' Sum up!
5 - Homework. 2' A 4-7
Week 2
Date of preparation:31/08/2009
Date of teaching:01/09/2009
Period3: Unit 1 Lesson 3- B 1,2,3
I- The aims and requests:
- Help students develop 4 skills: speaking - reading - Writing - listening.
- Help students greet and introduce their name.
- By the end of the lesson the students will be able to do the exercise.
II - Teaching points:
 Hello/ Hi. I'm + ten. Nice to meet you. 
III - Preparation:
- Teacher: Lesson plan, tape, pictures, word cues.
- Students: Text book, student book, work book, homework.
IV - Procedures:
1 - Organization. 1'
 Good morning/afternoon! Who is absent today?
2- Checking up! 5' Checking students A6.
3 - New lesson:
Teacher ' s activities
Time
Students ' activities
3.1 - Pre speaking.
* Dilouge 
Lam: Hello. I'm Lili.
Mai: Hi, Lili. I'm Nam.
Lam:Nice to meet you, Nam.
Mai:Nice to meet you, Lili.
- Teacher asks Sts to listen and repeat.
3.2 -While - Speaking.
*Eg. Lam: Hello. I'm Lili.
Mai: Hi, Lili. I'm Nam.
Lam:Nice to meet you, Nam.
Mai:Nice to meet you, Lili.
- T gives form:
* Form: Hello? Hi. I'm + Ten.
 Nice to meet you.
* Practice. Wordcues.
- T asks Sts to practise.
1. Mai/ Nam. 2. Aland/Lili.
3. Linda/Aland. 4. Peter/ Tom.
3.3 Post - speaking.
*Numbering.
- T asks Sts to listen and number the picture. a- 3; b-1; c- 2:
5'
15'
10'
- St listen
- St work in pairs
- St listen and repeat
- St listen
- St repeat
- 4 sts read
- Sts give form
- Sts write
- Sts practise
- 4 pairs to say out
- listen and number.
4 - Consolidation: 2' Sum up!
5 - Homework. 2' B 1-3
Week 2
Date of preparation:31/08/2009
Date of teaching:01/09/2009
Period4: Unit 1 Lesson 4:- B 4 -7
I- The aims and requests:
- Help students develop 4 skills: speaking - reading - Writing - listening.
- Help students read the text and ask and answer the questions, write about themselves.
- By the end of the lesson the students will be able to do the exercise.
II - Teaching points:
- Reading - Writing. 
III - Preparation:
- Teacher: Lesson plan, pictures, word cues.
- Students: Text book, student book, work book, homework.
IV - Procedures:
1 - Organization. 1'
 Good morning/ afternoon! Who is absent today?
2- Checking up! 5' Checking students Ex B2.
3 - New lesson:
Teacher ' s activities
Time
Students ' activities
3.1 - Pre reading.
*Prediction.
1 - ....
2 - .....
- Teacher asks Sts to predict .
- T asks Sts to read the text and check their prediction.; 
1-b; 2- a.
3.2 -While - reading.
* Dialouge:
- T asks Sts to read and work in pair.
 ( St s' book p. 16)
3.3 Post - Writing.
*Writing.
- T asks Sts to writing B5.
(St s' book p. 16)
1. Hello. I'm....... .
2. Nice.............................. .
* Play game:B6 ( St s' book p. 17)
5'
10'
15'
- Sts predict
- Sts say out their predictation
- 2Sts match
- Sts read the text
- Sts check their predictation
- Sts read
- 6 sts write on the B.B
- Sts listen and write
- play game.
4 - Consolidation: 2' Sum up!
5 - Homework. 2' B 4 -7
Week 3
Date of preparation:05/09/2009
Date of teaching:08/09/2009
Period5: Unit 2 Lesson 1- A 1,2,3
I- The aims and requests:
- Help students develop 4 skills: speaking - reading - Writing - listening.
- Help students ask and answer their health.
- By the end of the lesson the students will be able to do the exercise.
II - Teaching points:
- Vocabulary. 
- How are you?I'm fine, thanks.
III - Preparation:
- Teacher: Lesson plan, tape, pictures, word cues.
- Students: Text book, work book, homework.
IV - Procedures:
1 - Organization. 1' Good morning/afternoon! Who is absent today?
2- Checking up! 5' Checking students B4 -5.
3 - New lesson:
Teacher ' s activities
Time
Students ' activities
3.1 - Pre teach.* Vocabulary:
How
You
Are
How are you?
Fine
Thank you
Như thế nào
Bạn
Là
Bạn có khoẻ không?
Khoẻ
Cảm ơn
- Teacher asks Sts to listen and repeat.
- T checks Voc: Matching
3.2 -Presentation.
- T sets the scene and gives model sentence:
A: How are you?
B: I'm fine, thank you.
* Form
A: How are you?
B: I'm fine, thank you.
3.3 - Practice. 
- T asks Sts to practise.
 A1- 2- 3
5'
10'
15'
- St listen and write
- St read
- 5 sts read new word
- St listen and repeat
- St listen
- St give form
- ST write
- St practice
- work in pairs
- 5 pairs practice
4 - Consolidation: 2' Sum up!
5 - Homework. 2' A1-3.
Week 3
Date of preparation:06/09/2009
Date of teaching:09/09/2009
Period6: Unit 2 Lesson 2- A 4 -7.
I- The aims and requests:
- Help students develop 4 skills: speaking - reading - Writing - listening.
- Help students listen and write healthy.
- By the end of the lesson the students will be able to do the exercise.
II - Teaching points:
 A: How are you? - B: I'm fine, thank you.
III - Preparation:
- Teacher: Lesson plan, tape, pictures.
- Students: Text book, work book, homework.
IV - Procedures:
1 - Organization. 1'
 Good morning/ afternoon! Who is absent today?
2- Checking up! 5' Checking students ex A2.
3 - New lesson:
Teacher ' s activities
Time
Students ' activities
3.1 - Pre- Listening.
* Matching:
How
You
Are
How are you?
Fine
Thank you
Như thế nào
Bạn
Là
Bạn có khoẻ không?
Khoẻ
Cảm ơn
- T asks Sts to matching.
3.2 -While - Listening.
* Ordering.
- T asks Sts to litsen and tick.
1 - b. 2 - a.
3.3 - Post - listening. 
* Writing. A6.
- T asks Sts to practise writing.
1. How.................?
2. I'm........... , ............ you.
* Play game. A7
- T guides Sts to read.
* Say it right A5:
See Lili See
Meet Alan Read
5'
10'
15'-
- St write
- St work in pairs
- 2 Sts match on the B.B
- St listen
- St tick
- 3 Sts tick on the B.B
- Sts write
- 3 sts write on the B.B
- Practise
- play
- read
4 - Consolidation: 2' Sum up!
5 - Homework. 2' A 4-7
Week 4
Date of preparation:11/09/2009
Date of teaching:16/09/2009
Period7: Unit 2 Lesson 3- B 1,2,3
I- The aims and requests:
- Help students develop 4 skills: speaking - reading - Writing - listening.
- Help students ask and answer their health and the way to greet.
- By the end of the lesson the students will be able to do the exercise.
II - Teaching points:
 How are you?- I'm fine, thank you.
Good bye. See you later.
III - Preparation:
- Teacher: Lesson plan, tape, pictures, word cues.
- Students: Text book, student book, work book, homework.
IV - Procedures:
1 - Organization. 1'
 Good morning! Who is absent today?
2- Checking up! 5' Checking students A6.
3 - New lesson:
Teacher ' s activities
Time
Students ' activities
3.1 - Pre speaking.
* Dilouge 
Lam: How are you?
Mai: I'm fine. Thank you. And you?
Lam: Fine, thanks.
Mai: Good bye, Lam.
Lam: Bye, see you later.
- Teacher asks Sts to listen and repeat.
3.2 -While - Speaking.
*Eg: A: Good bye.
 B: Bye, see you later.
- T gives form:
How are you?- I'm fine, thank you.
Good bye. See you later.
* Practice. Wordcues.
- T asks Sts to practise.
1. Mai/ Viet. 2. Aland/Tom.
3. Linda/ Lili 4. Peter/ Nam.
3.3 Post - speaking.
*Numbering.
- T asks Sts to listen and number the picture: 2-a; 1-b, 3 - c.
5'
15'
10'
- St listen
- St work in pairs
- St listen and repeat
- St listen
- St repeat
- 4 sts read
- Sts give form
- Sts write
- Sts practise
- 4 pairs to say out
 ... iting.
*Writing.
- T asks Sts to writing B5.
Write about your school objects.
* Let's play.
The way to school.
( St s' book p.61)
5'
10'
15'
- Listen
- predict
 - read and check
- Write
- play.
4 - Consolidation: 2' Sum up!
5 - Homework. 2' B 4 -7
Week 16
Date of preparation: 28/11/2008
Date of teaching:02/12/2008
Period31: Language focus
I- The aims and requests:
- Help students develop 4 skills: speaking - reading - Writing - listening.
- Help students review their knowleg from U4 to U6.
- By the end of the lesson the students will be able to do the test well.
II - Teaching points:
Language focus U4 - U6.
III - Preparation:
- Teacher: Lesson plan, pictures, word cues.
- Students: Text book, student book, work book, homework.
IV - Procedures:
1 - Organization. 1'
 Good morning! Who is absent today?
2- Checking up! 5' Checking students Ex B2.
3 - New lesson:
Teacher ' s activities
Time
Students ' activities
1. Grammar review.
- U4: She/he is + Ten. She/he is my friend.
 Sit down/ stand up, please.
- U5: This/that is + my + N. It's big/small.
- U6: Is your school big/small?
 Yes, it is/ No, it isn't.
May I go out/ come in?
Open your book , please.
2. Practice.
1. Điền từ thích hợp vào chỗ trống.
1. She -- Lan. --- is my friend.
2. Sit ---- , please.
3. This -- myschool. --'s bigl.
4. Is ---- school big?
 --- , it is.
5. May - go out?
6. ---- your book ,----- .
2. Group work.
- T asks STS to practice in pair.
- T calls pairwork.
3. Exercise.
- T asks STS to do EX in WB.
10'
20'
- review
- Practice
- group work
- do EX
4 - Consolidation: 2' Sum up!
5 - Homework. 2' B 4 -7
Week16
Date of preparation: 1/12/2008
Date of teaching: 3 /12/2008
Period32: Self - check one 
I- The aims and requests:
- Help students develop 4 skills: speaking - reading - Writing - listening.
- Help students do a test.
- By the end of the lesson the students will be able to do a test well.
II - Teaching points:
 Test
III - Preparation:
- Teacher: Lesson plan, test paper.
- Students: Review the lesson.
IV - Procedures:
1 - Organization. 1'
 Good morning/ afternoon! Who is absent today?
2- Checking up! 5' Checking students paper.
3 - New lesson: 
A. Check the word you hear.
1. She .......... He .........
2.My .......... Nice ........
3.School .......... classroom ........
4. Big ........ Book .......
5. Small ...... School ......
B. Listen and check.
1. She's my friend ...... 
She's Mai ......
2. This is my school ......
This is my library ......
3. May I go out ......
May I come in ......
4. Close your book, please ......
 Open your book, please ......
5. It is small ......
 It isn't small .......
C. Complete the sentences.
 y a t s e i l e o i o 
1. Sh_ is Mai.
2. He is m _ fr_ _nd.
3. Th _ s is my sch _ _l libr_ ry.
4. Is i _ big?
5. No, it i_ n't. It is sma_ l.
D. Write the words in the blanks.
1. This is my ........... ( Quyển sách)
2. This is ......................( Lớp học )
3. This is my ..................( Trường học)
4. That is my ..................( Cô giáo)
5. This is my ....................( Thư viện)
E. Select and tick the letter A, B or C.
1. .......... is my friend.
A. My
B. He
C. It
2. She is my friend ......
A: That
B: Thanks
C:Too
3. What's ........... name?
A: It
B: Is
C: Its
4. ......... down, please.
A: Sit
B: Stand
C: Open
5. .............., It isn't.
A: Yes
B: No
C: It
 F. Write the answer.
A: This is my school.
B: What's its name?
A: (1).................................
B: Is it big?
A:(2)......., .............. .
4 - Consolidation: 2' collect the test paper
5 - Homework. 2' write a test in WB.
Week16
Date of preparation: /12/2008
Date of teaching: /12/2008
Period31: 
Name:.............................
Class:............................
Test 2
Grade: English 3
 Mark
A. Check the word you hear.
1. She .......... He .........
2.My .......... Nice ........
3.School .......... classroom ........
4. Big ........ Book .......
5. Small ...... School ......
B. Listen and check.
1. She's my friend ...... 
She's Mai ......
2. This is my school ......
This is my library ......
3. May I go out ......
May I come in ......
4. Close your book, please ......
 Open your book, please ......
5. It is small ......
 It isn't small .......
C. Complete the sentences.
 y a t s e i l e o i o 
1. Sh_ is Mai.
2. He is m _ fr_ _nd.
3. Th _ s is my sch _ _l libr_ ry.
4. Is i _ big?
5. No, it i_ n't. It is sma_ l.
D. Write the words in the blanks.
1. This is my ........... ( Quyển sách)
2. This is ......................( Lớp học )
3. This is my ..................( Trường học)
4. That is my ..................( Cô giáo)
5. This is my ....................( Thư viện)
E. Select and tick the letter A, B or C.
1. .......... is my friend.
A. My
B. He
C. It
2. She is my friend ......
A: That
B: Thanks
C:Too
3. What's ........... name?
A: It
B: Is
C: Its
4. ......... down, please.
A: Sit
B: Stand
C: Open
5. .............., It isn't.
A: Yes
B: No
C: It
 F. Write the answer.
A: This is my school.
B: What's its name?
A: (1).................................
B: Is it big?
A:(2)......., .............. .
Week 16
Date of preparation: /12/2008
Date of teaching: /12/2008
Period32: Hoạt động ngoại khoá
I- The aims and requests:
- Help students develop 4 skills: speaking - reading - Writing - listening.
- Help students review their knowlege from U4 to U6.
- By the end of the lesson the students will be able to play the game well.
II - Teaching points:
 Game U4 - U6.
III - Preparation:
- Teacher: Lesson plan, pictures, word cues.
- Students: Text book, student book, work book, homework.
IV - Procedures:
1 - Organization. 1'
 Good morning/ Afternoon! Who is absent today?
2- Checking up! 5' Checking students Ex B2.
3 - New lesson:
Teacher ' s activities
Time
Students ' activities
1. Grammar review.
- U4: She/he is + Ten. She/he is my friend.
 Sit down/ stand up, please.
- U5: This/that is + my + N. It's big/small.
- U6: Is your school big/small?
 Yes, it is/ No, it isn't.
May I go out/ come in?
Open your book , please.
2. Practice.
1. Điền từ thích hợp vào chỗ trống.
1. She -- Lan. --- is my friend.
2. Sit ---- , please.
3. This -- myschool. --'s bigl.
4. Is ---- school big? --- , it is.
5. May - go out?
6. ---- your book ,----- .
2. Group work.
- T asks STS to practice in pair.
- T calls pairwork.
3. Play game
- T asks STS to play game U4 - 6.
10'
20'
- review
- Practice
- group work
- Play game
4 - Consolidation: 2' Sum up!
5 - Homework. 2' 
Name:...................
Class:....................
Test- 15'
English 3
02/12/2008
1. Matching
1. She's my friend 
a. I'm fine, thank you.
2. This is my book. 
b. This is LiLi.
3. May I go out ? 
c. Is your school big?
4. How are you?
d. Go out, please.
5. No, It is small 
e. It's Minh Khai school.
6. What is your school name?
f. It's big.
2 Write the answer.
1. Is your book big?
.................................................. 
2. What's your school name?
................................................... 
Name:...................
Class:....................
Test- 15'
English 3
02/12/2008
1. Matching
1. She's my friend 
a. I'm fine, thank you.
2. This is my book. 
b. This is LiLi.
3. May I go out ? 
c. Is your school big?
4. How are you?
d. Go out, please.
5. No, It is small 
e. It's Minh Khai school.
6. What is your school name?
f. It's big.
2 Write the answer.
1. Is your book big?
.................................................. 
2. What's your school name?
................................................... 
Week 17
Date of preparation:12 /12/2008
Date of teaching:16/12/2008
Period33: Language focus
I- The aims and requests:
- Help students develop 4 skills: speaking - reading - Writing - listening.
- Help students review their knowleg from U1 to U6.
- By the end of the lesson the students will be able to do the test well.
II - Teaching points:
Language focus U1 - U6.
III - Preparation:
- Teacher: Lesson plan, pictures, word cues.
- Students: Text book, student book, work book, homework.
IV - Procedures:
1 - Organization. 1'
 Good morning/ aftenoon! Who is absent today?
2- Checking up! 5' Checking students Ex B2.
3 - New lesson:
Teacher ' s activities
Time
Students ' activities
1. Grammar review.
- U1: Hello/Hi. I'm + Ten.
 Nice to meet you.
- U2: How are you?
 I'm fine, thank you.
- U3: What's your name?
 My name's + Ten.
- U4: She/he is + Ten. She/he is my friend.
 Sit down/ stand up, please.
- U5: This/that is + my + N. It's big/small.
- U6: Is your school big/small?
 Yes, it is/ No, it isn't.
May I go out/ come in?
Open your book , please.
2. Practice.
1. Điền từ thích hợp vào chỗ trống.
1. H-l-o. I'- Lan.
2. Nice -o m --t you.
3. Ho- are y -u?
 Fine, --anks y --.
4. Wh-- is y--r na--?
 My na-- is Lan.
5. She -- Lan. --- is my friend.
6. Sit ---- , please.
7. This -- myschool. --'s bigl.
8. Is ---- school big?
 --- , it is.
9. May - go out?
10. ---- your book ,----- .
2. Group work.
- T asks STS to practice in pair.
- T calls pairwork.
3. Exercise.
- T asks STS to do EX in WB.
10'
20'
- review
- Practice
- group work
- do EX
4 - Consolidation: 2' Sum up!
5 - Homework. 2' WB U1-6.
Week 17
Date of preparation: 13/12/2008
Date of teaching:17/12/2008
Period34: Thi học kỳ I
I- The aims and requests:
- Help students develop 4 skills: speaking - reading - Writing - listening.
- Help students review their knowlege from U1 to U6.
- By the end of the lesson the students will be able to do the test well.
II - Teaching points:
Language focus U1 - U6.
III - Preparation:
- Teacher: Lesson plan.
- Students: Pen, test paper.
IV - Procedures:
1 - Organization. 1'
 Good morning/afternoon! Who is absent today?
2- Checking up! 
3 - New lesson: Test.( Đề PGD)